DESIGN
VITO DI BARI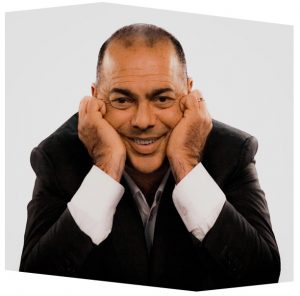 Vito Di Bari is an innovation designer who is changing the world through his cutting edge design solutions.
Vito has been defined as one of the three most important futurist in the world, along with John Naisbitt and Alvin Toffler. He uses scientific methods to develop creative solutions based on next generation technologies and the newest materials, aimed to increase the quality of our everyday lives. In 2007 Di Bari has written The Neo-Futuristic Manifesto and is unanimously considered the thought leader of the first avantgarde movement of the new century. He has been named "Big Thinker of 2014" by The Financial Times.
University professor of Design and Management of Innovation at Polytechnic of Milan and Bocconi University for over 20 years, Vito has advised over 100 corporations on strategies, communication technology, and design; he has been named Innovation Designer for the Expo 2015 by the city of Milan for its candidacy, and he has been Executive Director IMI at UNESCO, in Paris. Considered a world leading authority on innovation, Vito has published 10 books on innovation.
The Financial Times defined him as "the New European Guru of Innovation"; the Nobel Economics Prize winner, Kenneth Arrow, said, "Vito Di Bari engineers dreams. Concrete dreams, based on concrete facts".
DESIGN
MEETS SCIENCE
Many of MyEquilibria solutions have been inspired by Voronoi Diagrams, that just like Finonacci's 'Golden Ratio' sequence are found throughout nature. This is the secret that makes MyEquilibria wellness sculptures blend so well with the outdoor environment.
Final result? Technology and art that function in perfect unity, giving birth to a new generation of an outdoor workout experience that's like no other. Experience which is more intuitive, instinct-driven and simply smart. Experience that is better by any measure.